Welcome to the Hitsugime no Chaika Wikia! This is a wiki for all the fans of Hitsugime no Chaika. Please be aware that the Hitsugime no Chaika Wiki contains SPOILERS.
We are currently editing over 89 articles since November 2010.
Careful: This wiki contains spoilers, read with caution!
---
About • Policy • Administration • Templates

See more characters >>


Are you going to watch the anime adaptation?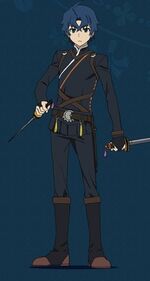 Toru Acura is a 20 year old saboteur from the Acura Village. After the downfall of the Gazu Empire and peace is restored, he lost his way of life. After he runs into a sorceress named Chaika Trabant, he follows her in hopes of finding meaning to his life again.
Read more >>

Loading RSS data...

Ad blocker interference detected!
Wikia is a free-to-use site that makes money from advertising. We have a modified experience for viewers using ad blockers

Wikia is not accessible if you've made further modifications. Remove the custom ad blocker rule(s) and the page will load as expected.